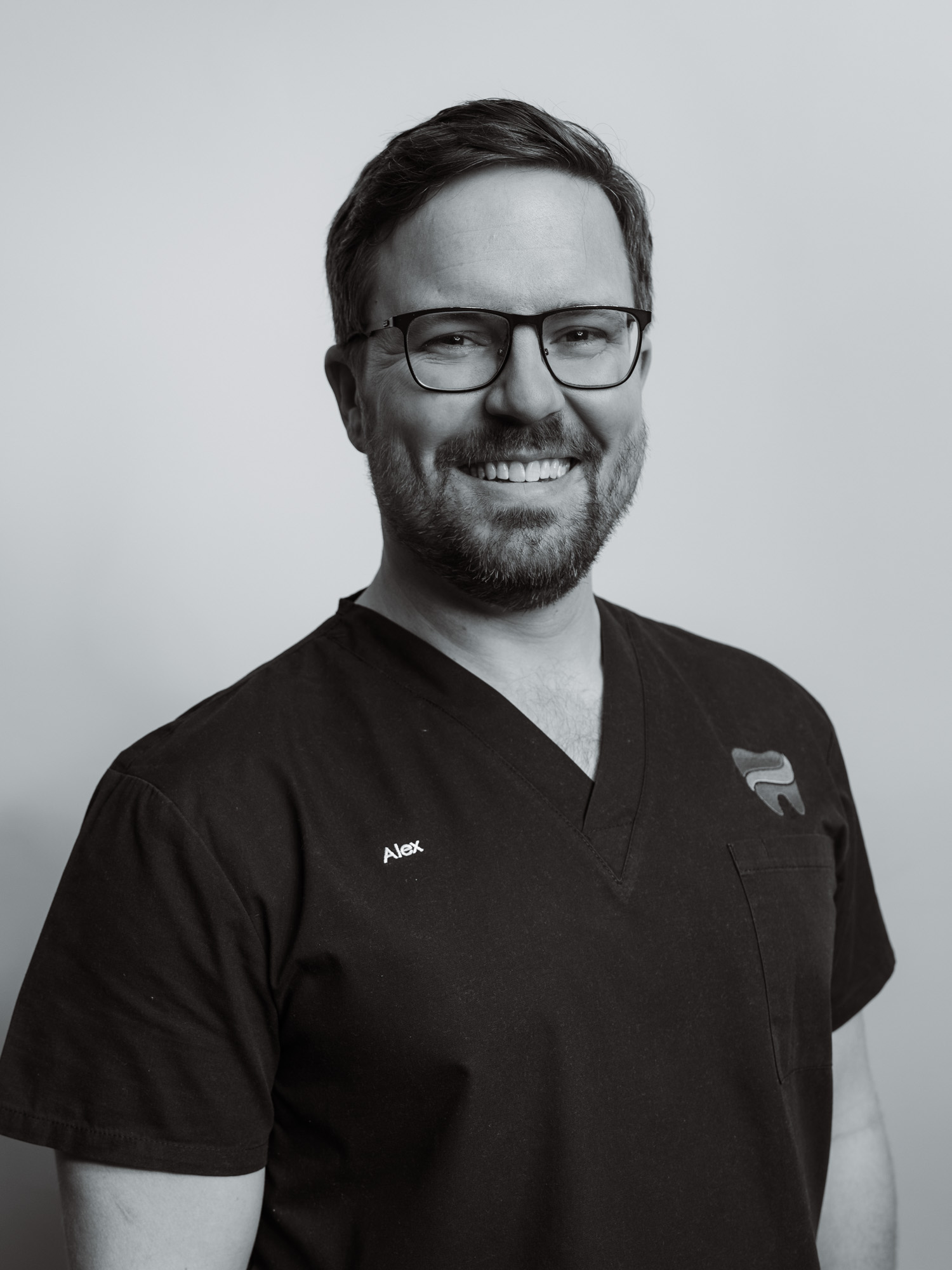 Alex Ryan
Dentist
Alex is a recent immigrant to the island after growing up in the Blue Mountains in New South Wales. He has found that life has notably improved since leaving the mainland. He believed the rest of the country to be too hot, too humid, and lacking in mountain biking opportunities.
Alex trained as a Pharmacist at Charles Sturt University before studying Dentistry at the University of Sydney. He then spent four years as a Dental Officer in the Australian Army posted to Enoggera Barracks, before joining Andrew at the practice in 2019. Alex has a particular interest in Endodontics and Paediatric Dentistry
Alex's hobbies include mountain biking, diving and being overly opinionated about rugby union, but eating baked goods and sampling ciders are regular contenders too. Alex is married to Elise, father to Evie and Sam, and looks forward to becoming part of the community with his young family.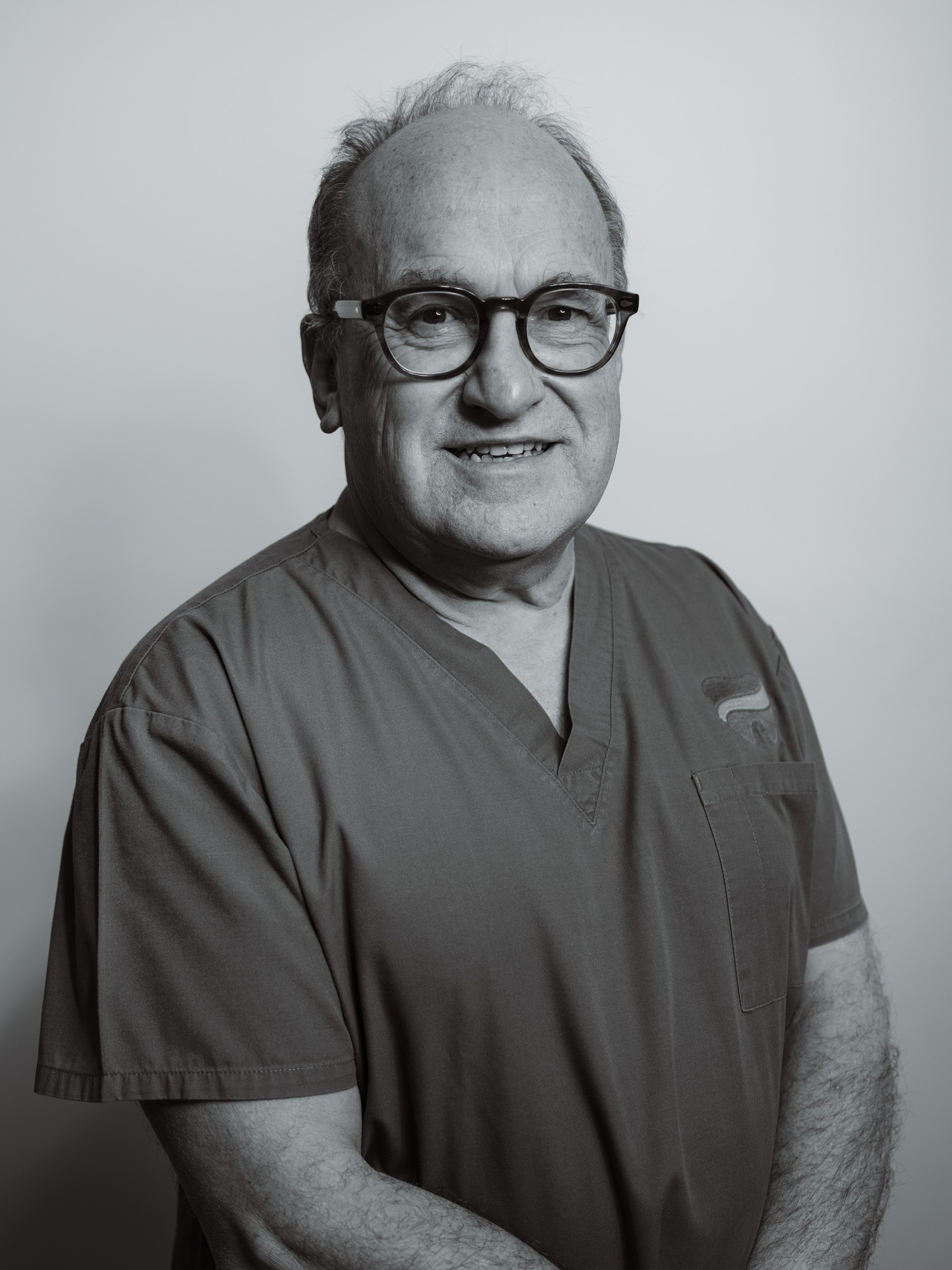 Andrew Westbrook
Dentist
Andrew is no stranger to the Hobart region, growing up in Taroona. After studying Dentistry at Adelaide University, he began his career in 1980 with the School Dental Service. Soon after, he joined Dr James Allen at his practice right here in 1982. They must have hit it off as Andrew became a partner in the practice in 1984 and took over in 1992.
Hobart had very few specialist dentists and surgeons in the 80s, and Andrew developed a broader experience than might be expected today – particularly in Oral Surgery and Prosthodontics. Andrew enjoys all aspects of Dentistry and thrives on the variety of treatments offered at our practice.
Andrew spent several years in the Army Reserve serving as a Dental Officer from 1983 to 2001. Andrew also sat on the Dental Board of Tasmania up until the formation of the Australian Health Practitioner Regulation Agency (AHPRA). He has been a longstanding member of the Australian Dental Association. Outside of Dentistry, Andrew enjoys Rugby Union, his club Hobart Harlequins, reading Bill Bryson books and shack life. Andrew is happily married to a beautiful wife, has three lovely daughters, one of whom was silly enough to become a dentist as well.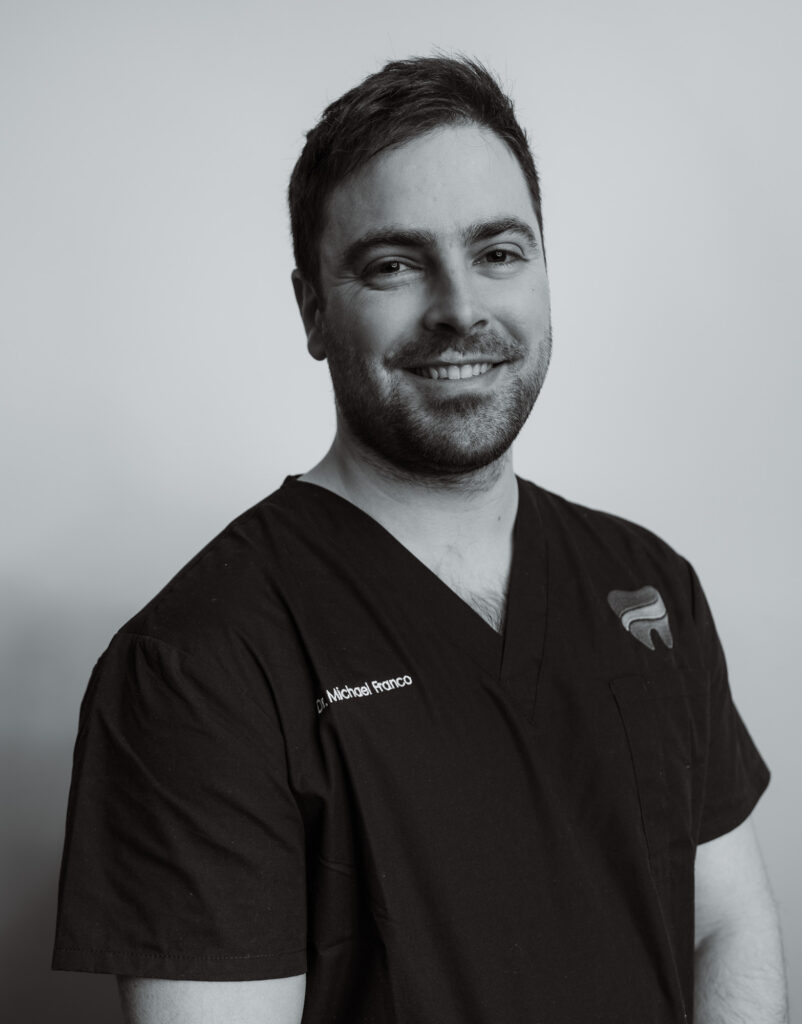 Michael Franco
Dentist
Michael is a Sydney boy who has seen the light and moved to the best place on earth. Coming to Hobart from Brisbane, and before that Cairns, we hope they don't open a dental clinic at the Mawson Research Station in case he considers moving farther south. Michael has particular interests in fixed prosthodontics, crown and bridge work, and children's dentistry. On the weekends, Michael spends his time mountain biking, motorsports and woodworking. Michael completed a Bachelor of Oral Health at Sydney University before doubling down and completing his Bachelor of Dental Surgery at James Cook University.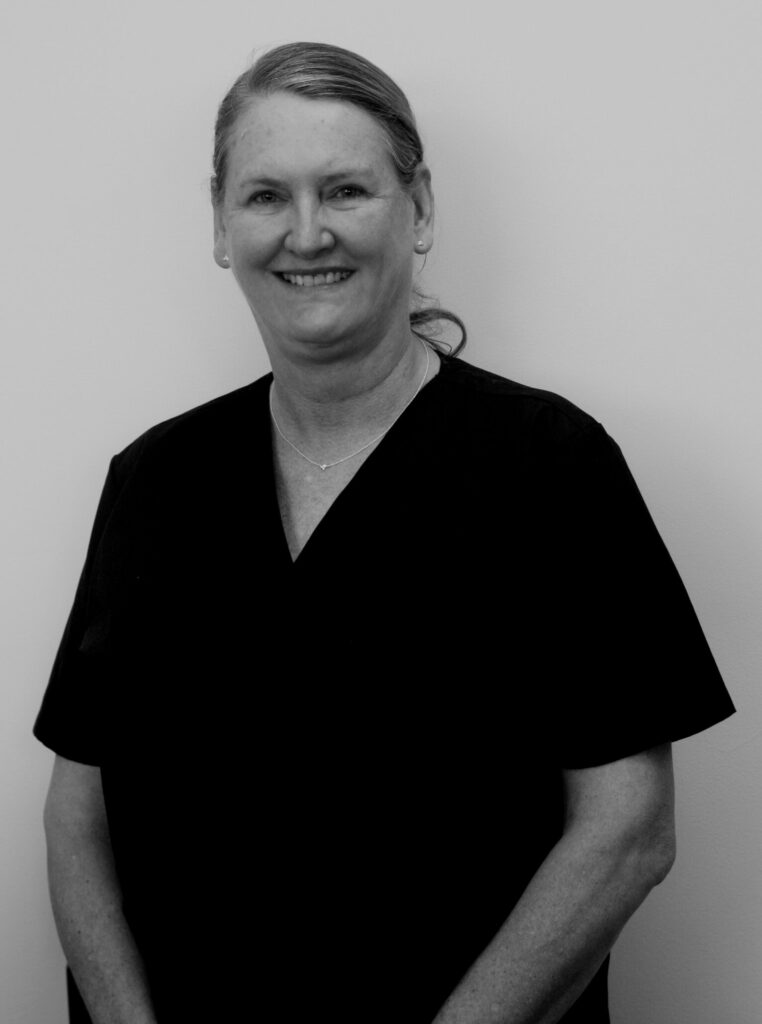 Jacinta Morrison
Dentist
Jacinta has recently joined our practice and brings with her a wealth of experience built over a long career in Dentistry. Jacinta focuses on her patient's experience during the calm and reassuring delivery of high quality dentistry.
Jacinta has a special interest in Paediatric and Special Needs Dentistry, and has completed further training in the field. Jacinta also has a depth of experience in the delivery of Relative Analgesia with nitrous oxide.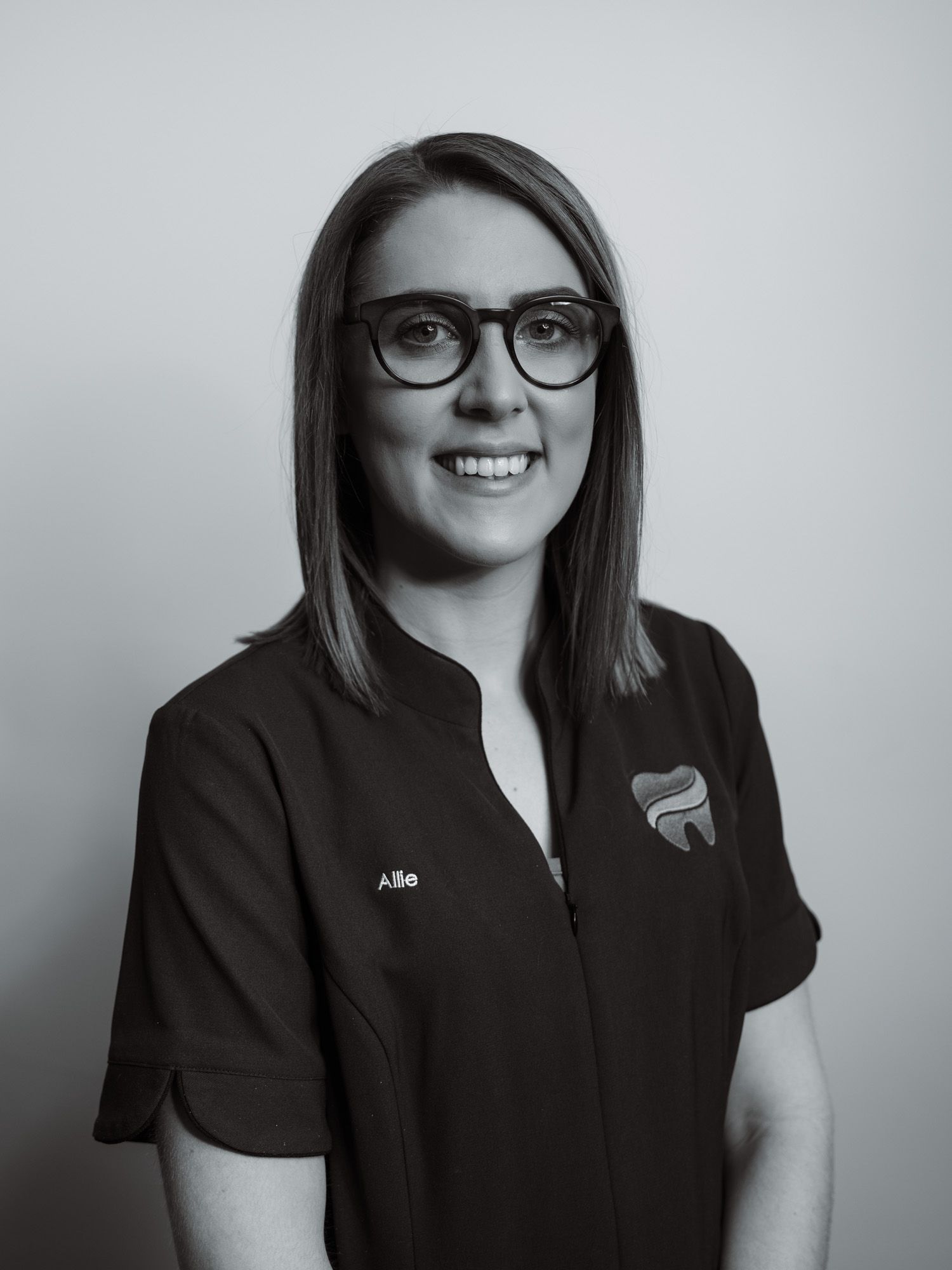 Allie Martin
Practice Manager
Allie joined our practice in 2020, building on a career in general and specialist dentistry. Empathetic and personable, Allie aims to set all our patients at ease and loves a good chat.
Allie enjoys the outdoor life and spends most of her free time exploring our home island and socialising with friends.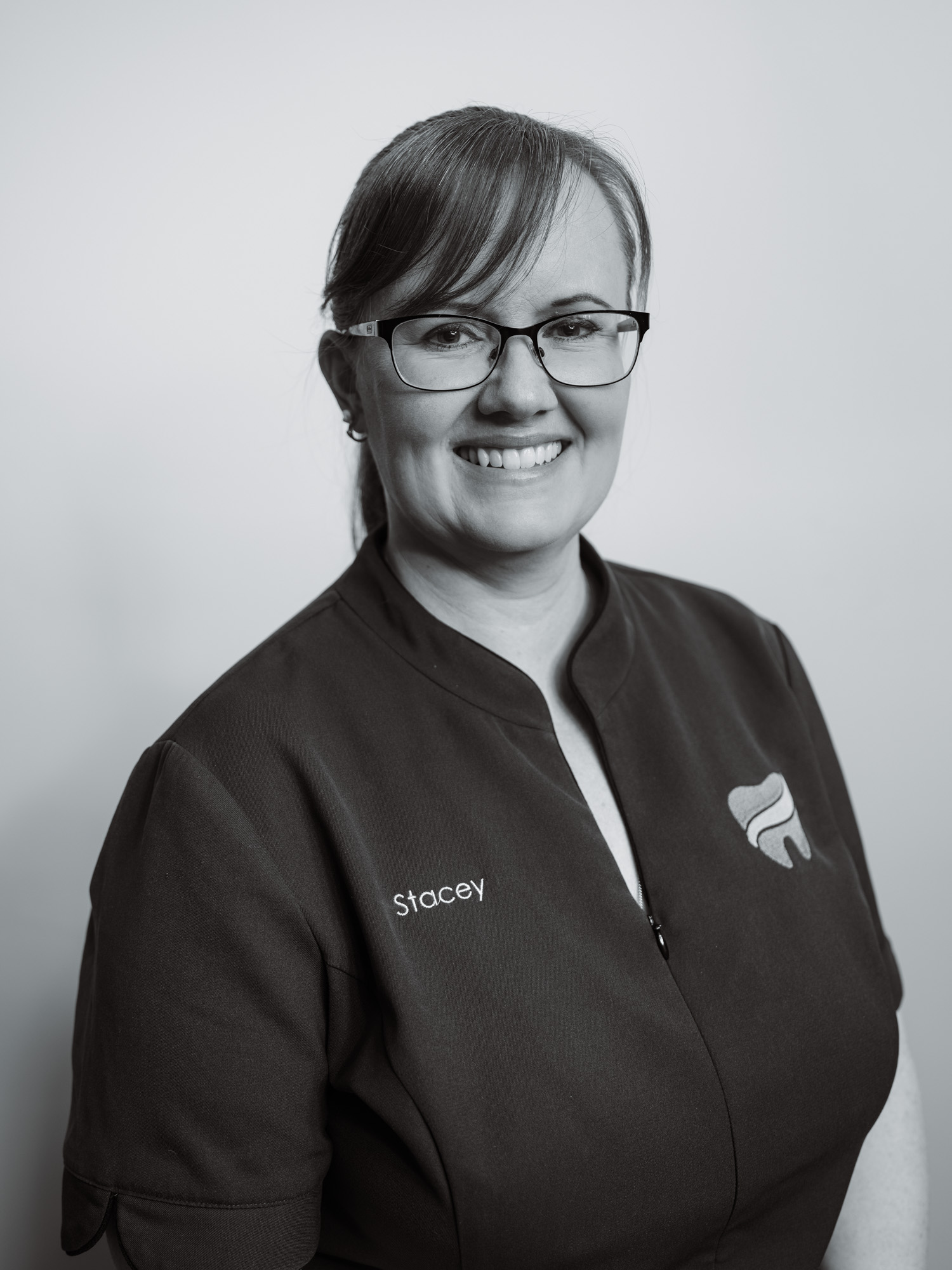 Stacey Faulks
Dental Assistant
Stacey started with Dr Westbrook in 2014 and loves the family atmosphere within the practice. Stacey brings a bright and inquisitive attitude to work. She is happy discussing oral hygiene, politics or recent celebrity gaffs and hearing about patient's life stories.
Stacey enjoys General Dentistry for its fast pace and diversity of cases. Stacey proves you don't have to be serious to be seriously good at your job.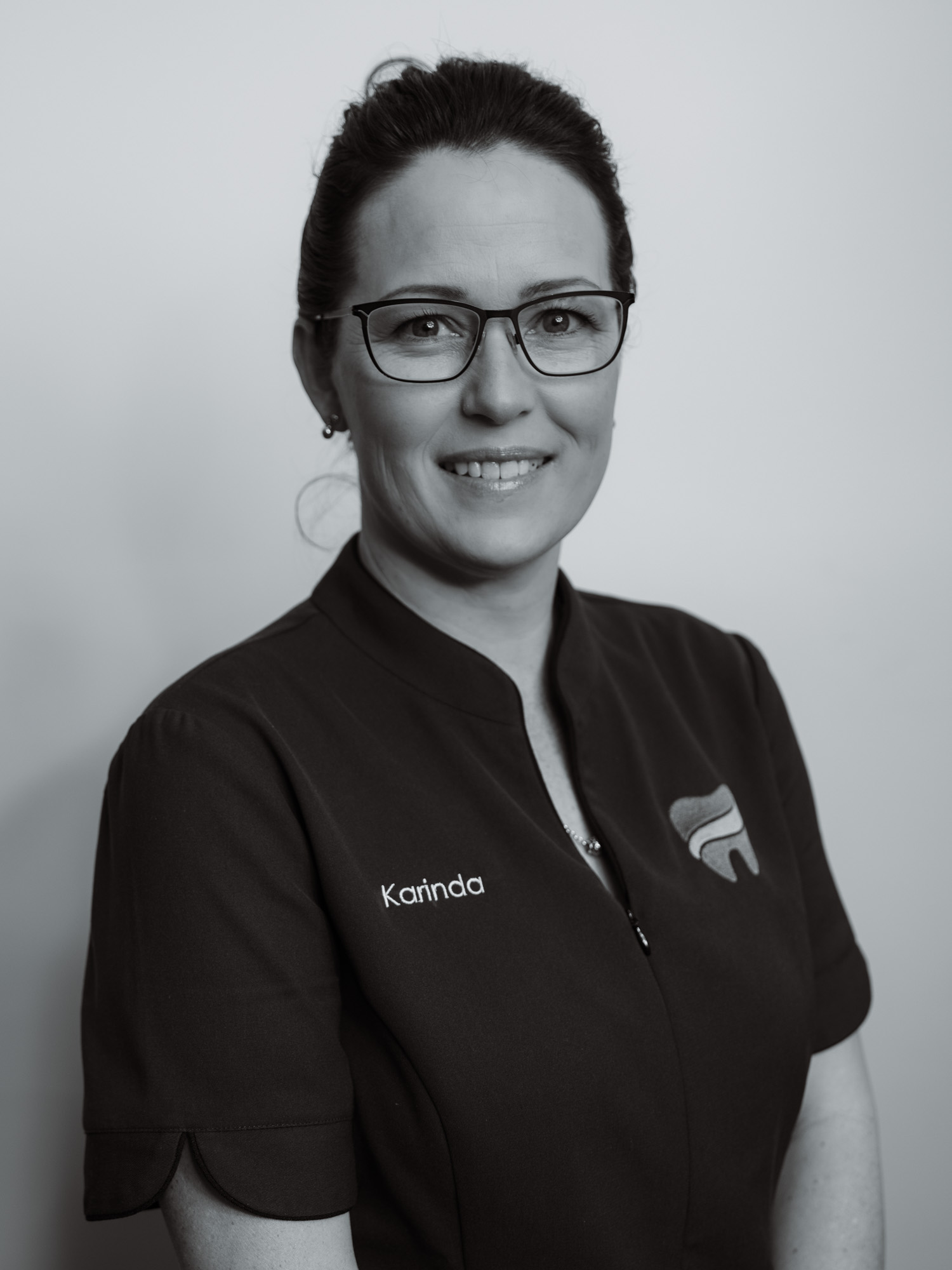 Karinda Bendall
Dental Assistant
Karinda joined the team in 2015 after a twelve-year break from dentistry. She loves working with such a great team and says the patients are just awesome.
Outside of work, she enjoys singing along to country music, riding her motorbike (when it's not too hot, too cold, too wet or too dry), and loves to watch her four kids play sports.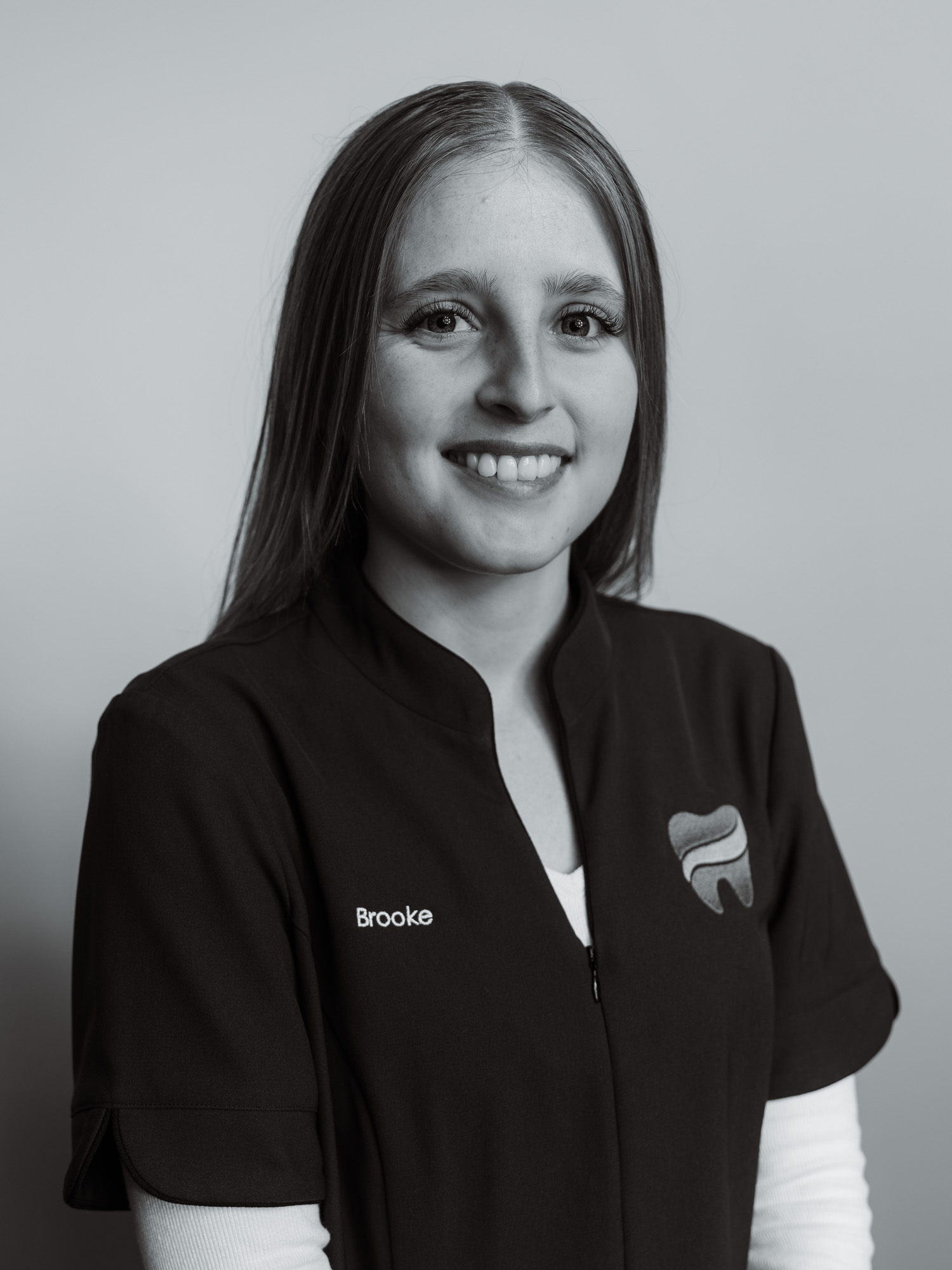 Brooke Wright-Browne
Dental Assistant
Brooke is an experienced Dental Assistant that joined our practice in 2020. Brooke is warm, calm, and efficient, with a particular interest in infection control.
Brooke is Pepper's chief handler and best friend. If you're interested in having Pepper with you during treatment, please let us know.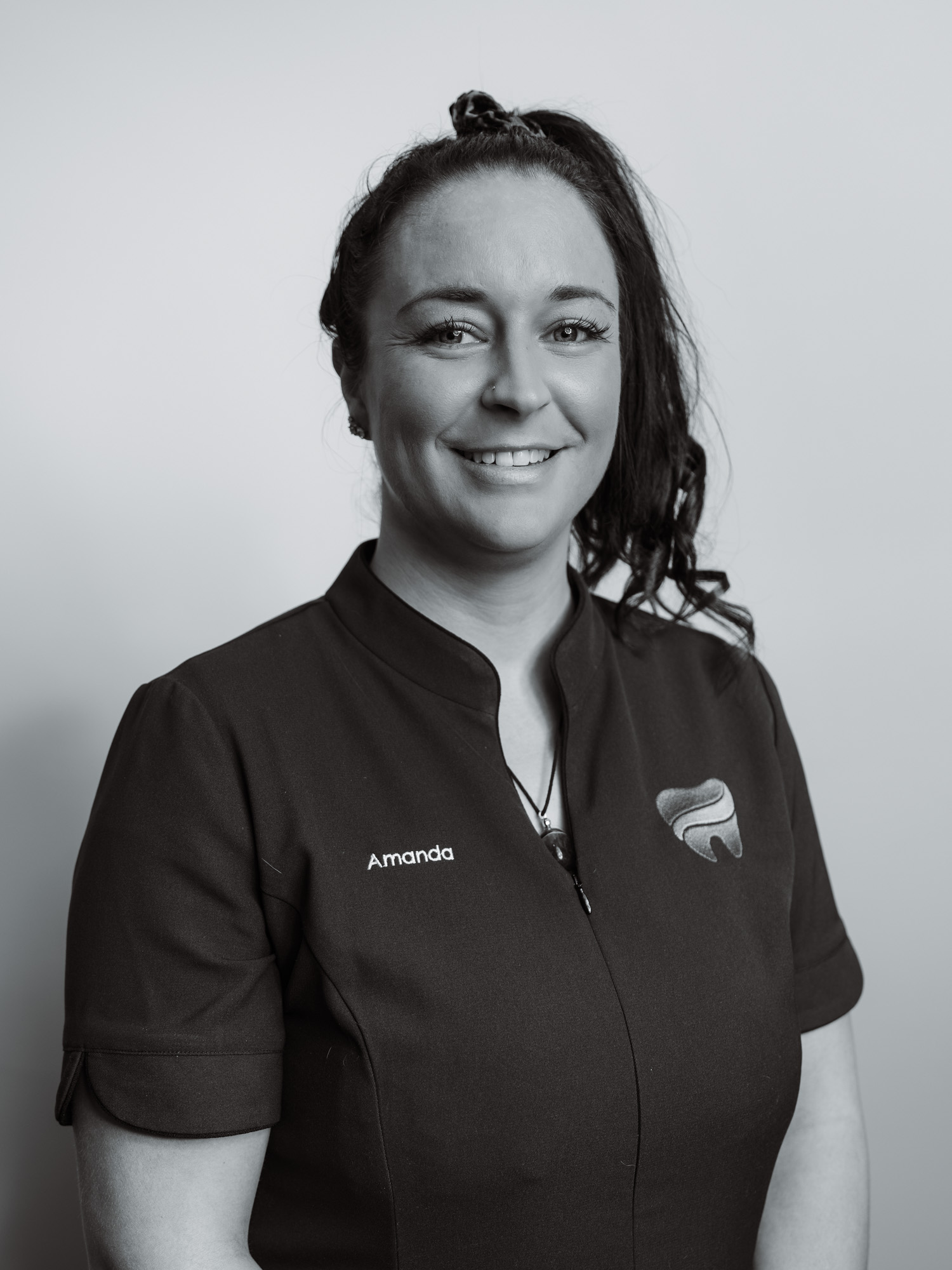 Amanda Glover
Dental Assistant
Amanda is a bright and bubbly dental assistant. She joined us in 2021 with 15 years of experience in general dental and orthodontics. When she is not spreading joy in the practice, Amanda loves to spend her spare time with her two dogs and refine her yoga skills.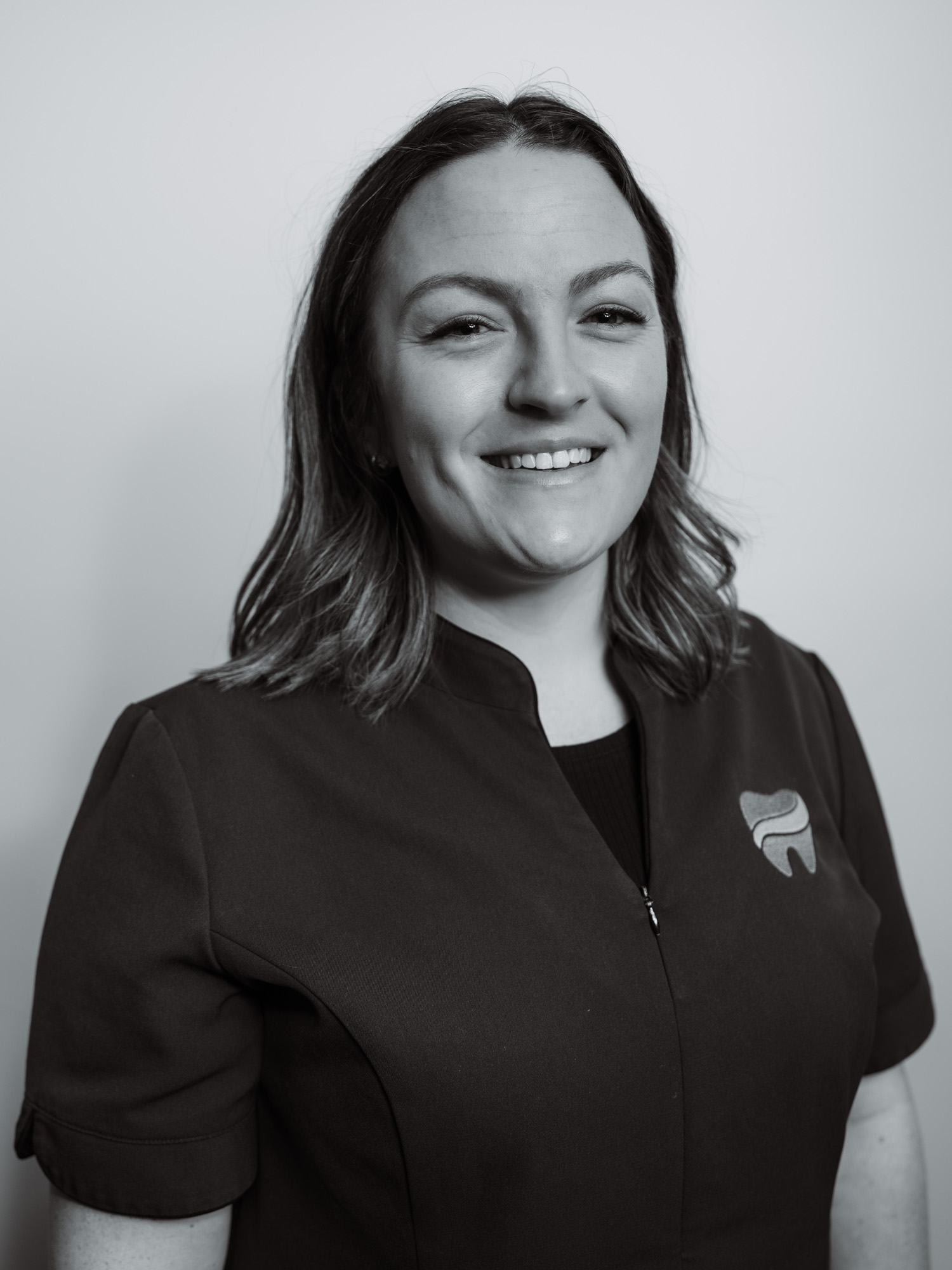 Adria Oates
Dental Assistant Trainee
Adria joined the team in 2021 as our trainee dental assistant. Adria is an eager learner and brings a wealth of customer service experience. She looks forward to furthering her knowledge and skills for a long-lasting career in the industry.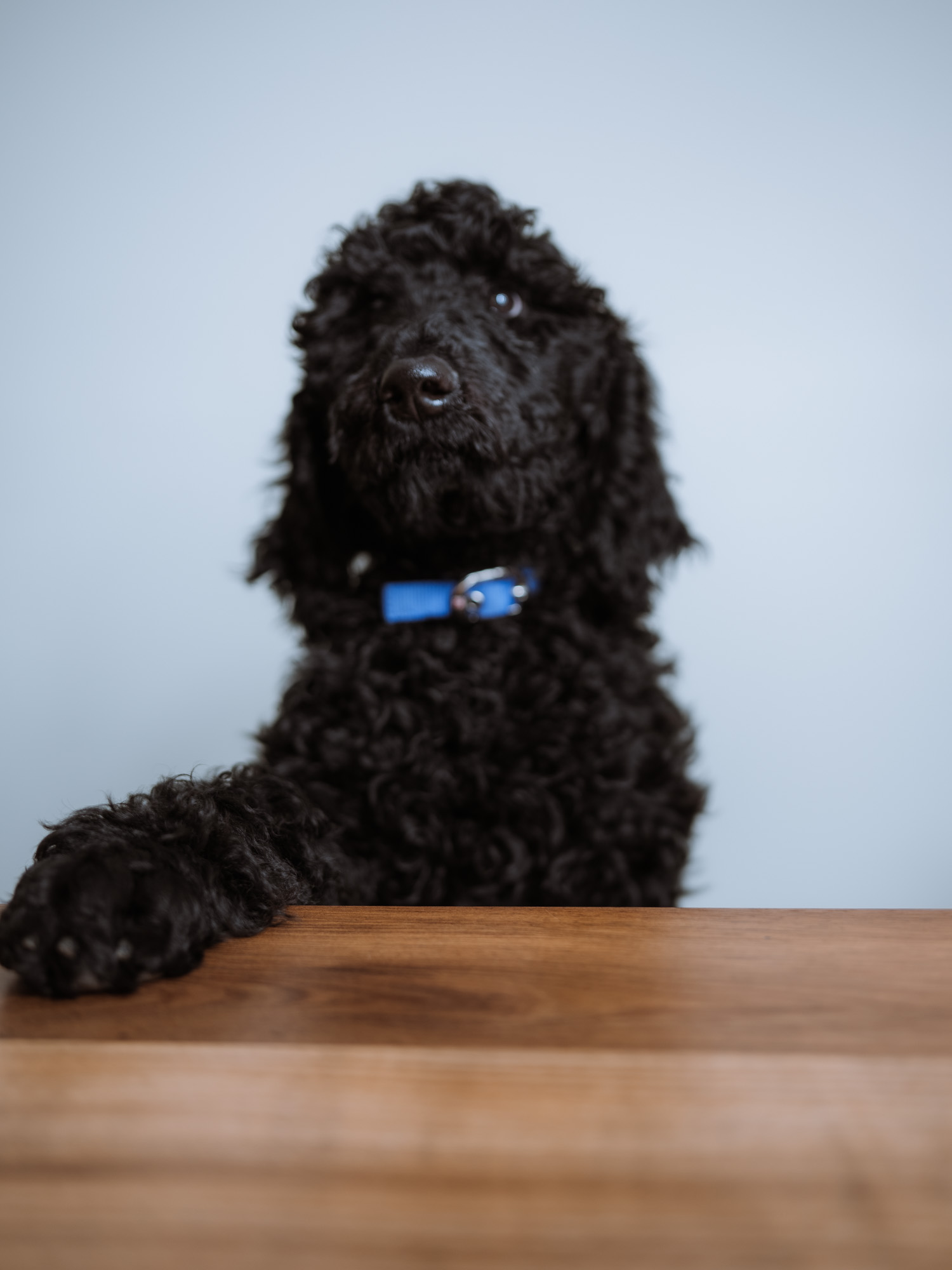 Pepper
Therapy Dog
Pepper joined the team at 8 weeks old and is growing up fast. She's currently undergoing therapy dog training, and like all hard-workers, Pepper needs some downtime. Therefore, she will only be joining us a couple of days a week. Her favourite activities are getting lots of pats, chasing her tail and playing with toys and her best friend, Brooke.
If you think you would benefit from Pepper's company for your appointment, please notify staff so we can try to accommodate.
If you're not a dog person, please also let us know so that we can ensure Pepper is elsewhere during your appointment!